Probes Newsletter 01/2020
---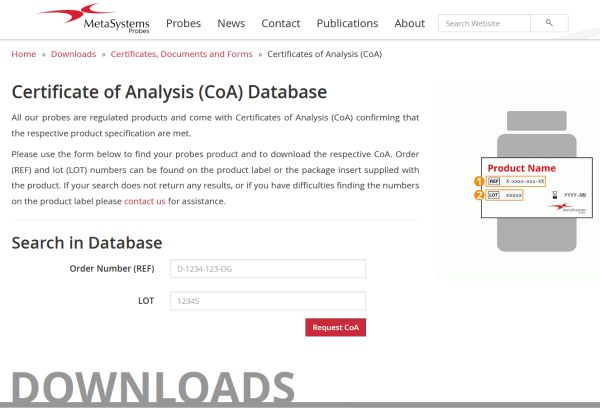 The CoA Database - a new XCyting download tool
MetaSystems always strives to simplify processes and makes life for customers easier. As a further step towards achieving this goal, we offer a convenient solution for our customers to download all CoAs corresponding to their MetaSystems Probes products. The webpage-based download tool can be found in our download section, which directly branches off from the start page footer: https://metasystems-probes.com/en/support/downloads/certificates-and-documents/certificates-of-analysis/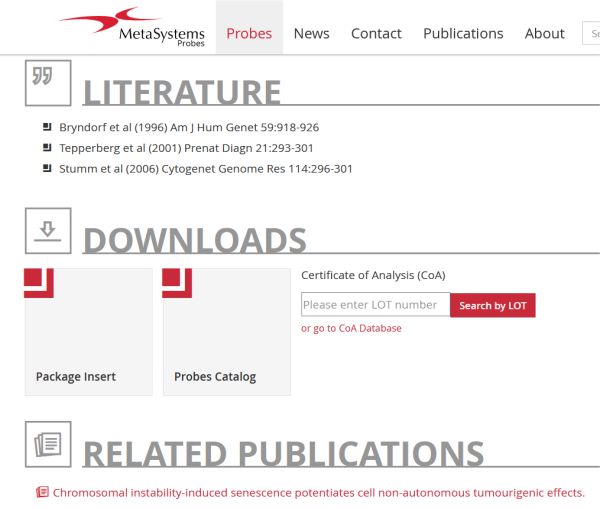 All available CoAs can be downloaded as PDF files via entering the product order number (REF) and the respective lot number (LOT). After entering, simply click on "Request CoA" and follow the download instructions!
The second option to download the CoA of your choice, is to choose a product of interest on our webpage. Under "Downloads" you can enter the corresponding LOT of the selected product in the field "Please enter LOT number". After entering the LOT, please click on "Search by LOT" and follow the download instructions!
If your search does not return any results, or if you have difficulties finding the numbers on the product label, please contact us for assistance.